Ethnicity and geographic origins determine the established "value" of a trafficking victim. There's something grating about the market value of sexual preference- something that serves as a reminder about how the corporate-driven capitalism has failed to reduce economic exploitation.
Numbers and prices compiled from Havocscope.
Human trafficking is estimated to surpass the drug trade in less than five years. Journalist Victor Malarek reports that it is primarily men who are driving human trafficking, specifically trafficking for sex. 
As economic conditions deteriorate around the world, the numbers of trafficked females from southeastern Europe and Iraq continues to rise.  It's no secret that the Iraq war has left many Iraqis without an option to make money to feed their families. Fortunately, the demands of occupation forces for sex, drugs, and rock and roll can be counted upon. And it is young girls who have become the primary breadwinners in the new game.
Eman Dakhiliya (female) was finally arrested in the late hours of Sunday night September 3 (2012) with the company of other traffickers and their serving pimps by an Iraqi security troop in central Baghdad. Eman's many houses in Al Battaween, Karrada, and Palestine street in central Baghdad are served by Amar Zaytuna's gang who kidnap girls and force them to work in Eman's brothels; otherwise they kill them or at least damage their faces beyond recognition. Tens of prostituted women and girls live in inhumane conditions, under continuous threat of beatings, but with abundance of alcohol, drugs and hallucination pills. Learn more from Equality in Iraq.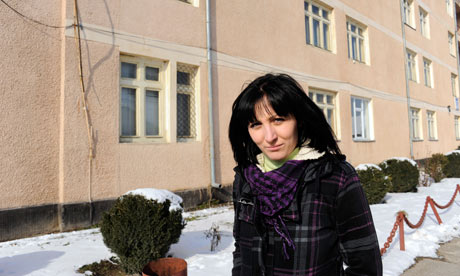 Marinela Badea was forced to work in Britain as a prostitute by people traffickers who kidnapped her and held her prisoner.
Photograph: The Observer/Petrut Calinescu

Weeks into her ordeal, Marinela relented. Nejloveanu presented her with a lurid set of garish underwear and she was taken to a nearby brothel masquerading as a sauna. She could not speak a word of English. When the first "client" booked her she wanted to say "no" but could not. She wanted to explain her predicament, tell the man that she was trafficked. Instead she cried, hoping that the man would take pity on her. He did not. None of them did. Marinela's story.

"When I was in Sheffield I was forced to see many clients per day – as many as 15. I worked every day, even during my periods; they made me put a sponge inside me to stop the blood. I got a very bad infection doing this and was very ill," she said. Olena was expected to make up to £400 per day and she was not allowed to contact her family. After almost two years spent as a prostitute, with a maid's help, Olena managed to escape just before her new traffickers arrived to buy her. She said: "Since I escaped I had to have a big operation inside, as a result of my infection while working during my periods. I am not really sure what the operation was for, as I did not understand what the doctors said in the hospital. I have very bad headaches now, and I am scared to go out." Olena's story.

Even before the notorious Delhi gang rape case, one speaker addressed what he called an "alarming" increase in rape cases. He says the reason for it is the lack of modesty among women. Another man gave a rationale for the practice of aborting baby girls. "These days society has become very educated and the girls started eloping, bringing shame on their families," the man says. "When girls behave like that, who would want a girl? Anyway it's women who prefer abortions. Men have no part of it." But 25-year-old Rupa, who lives in the village, says she never wanted to have an abortion. She was trafficked, sold into marriage, and then forced to have two abortions, she says, because both times she was pregnant with a girl. Rupa's story.

Often that wasn't enough for paying customers on the other side of the sex chat room. For $27 an hour, anyone could tell the girls what to do, and a man behind the camera would make sure they did it. The girls told of men coming in off the street and the girls having to perform sexual acts. Animals were sometimes involved. And perverts took deranged pleasure in watching the girls suffer these terrible abuses. "Sometimes we had to urinate," says the girl in the middle. Her friend to the right adds: "The urine is mixed with juice as a drink." "That's what the American client wants. He demands anyone who feels like urinating should do so, but that he wants us to do it in front of the camera." Filipino children tell their story.

Becoming a prostitute and a slave at the age of 13- not your average Mexican childhood. Rosa's story.

Iman Abou-Atta reports on the rise of female sex trafficking in Iraq as a result of economic conditions created by the US occupation and war. Eli Anita's story.

The story of an 11-year old girl who became a sex slave.

 
For more stories, watch The Price of Sex, a thoughtful documentary by Mimi Chakarova currently used to train US embassy staff throughout the world.
Human trafficking has eclipsed drug trafficking for the number of victims it creates. Unlike the drug trade, human trafficking is not related to a decision made by certain governments that criminalizes behavior. Human trafficking occurs in places where prostitution is legal and in places where it is illegal.